Golshafa Creates Opportunities for you and Introduces your Scientific Activities, and Expands your Global Connections.
Golshafa Terms and Conditions
Welcome to Golshafa.com's Terms and Conditions! We are truly excited to have you aboard. Thank you for choosing to use our products and services as well as visiting different departments such as Golshafa Glossary, Cooperation, HealthShop, iLuxuryMarket, Health Magazine, etc.
By using Golshafa.com, you agree to these Terms and Conditions. Please read them carefully.
General Use of the Website
Notice that all Golshafa's Laws of Terms and Conditions are applicable to the relevant International E-commerce law, supplying communications, support services and etc. as well as the law of support the rights of consumers and subsequently, user also should obey Laws of Terms and Conditions which related to the user.
Your usage of products and services at www.Golshafa.com that from now on named as an abbreviation "Golshafa" or "We" meaning accepting and being aware of all Terms and Conditions in this agreement.
Your use of information, materials and graphics contained on the Golshafa.com website is governed by these Terms and Conditions, and the Privacy and Security statements. In addition to the terms contained in this section, there are also Terms and Conditions that govern your use of, and access to, certain sections, products and services listed below on Golshafa website that we have listed important legal terms apply to anyone who visits our website or uses our products and services. These terms are necessary in order to protect both you and us, and to make our services possible and more enjoyable for everyone. (these include the documents listed in the Important Information section). As you are also bound by these terms, you should review them regularly, as they are subject to change without notice.
We understand that legal terms can be exhausting to read, and we've tried to make the experience more pleasant. If you have any suggestions on how we can improve them, you are more than welcome to contact us at golshafa.com/contact.
User Account
Golshafa Pharmaceutical Research Complex respects intellectual property rights and expects you to do the same. We've established a few ground rules for you to follow when using the Products and Services, to make sure Golshafa stays enjoyable for everyone. Please follow these rules and encourage other users to do the same. In order to for full access and use some certain sections and features of the Golshafa Products and Services, information on specialized projects, investment and partnership conditions, sponsors, proprietary trading in the market of Golshafa Pharmaceutical Research Complex, you must first register and create an account with Golshafa ("User Account") and have a valid payment method associated with it.
You own all rights in and to any content uploaded by you, or imported, copied or uploaded by Golshafa Products and Services for you, to your User Platform ("User Account"), including any designs, images, animations, videos, fonts, logos, code, illustrations, compositions, interfaces, text and any other materials ("Content"), or otherwise have (and will continue to have) the full power, title, licenses, consents and authority, in and to the User Account, as necessary to legally access to, import, copy, use, publish, transfer or license such User Account, by you and us or any of our affiliates.
If anyone other than yourself accesses your User Account and/or any of your User Platforms' settings, they may perform any actions available to you (unless as specifically stated otherwise on the Golshafa products and services), make changes to your User Platform(s) and User Account, and accept any legal terms available therein, make various representations and warranties and more – and all such activities will be deemed to have occurred on your behalf and in your name.
The User Account information you provide us must be your own (or your company's), and be accurate and complete. Therefore, we strongly encourage you to keep the log-in credentials of your User Account confidential, and allow such access only to people you trust – as you will be solely and fully responsible for all activities that occur under your User Account and/or User Platforms (including for any representations, warranties and undertakings made therein), whether or not specifically authorized by you, and for any damages, expenses or losses that may result from such activities.
Guidelines for Use of Golshafa
These guidelines (the "Guidelines") apply to any use of Golshafa's websites by our community, such as Golshafa.com, Golshafa.org, Golshafa.net, Golshafa.ir and similar ("our Website"). We refer to users of our website throughout the guidelines as "you" and "your".
We're a Pharmaceutical Research Complex in different departments such as Golshafa Glossary, Cooperation, HealthShop, iLuxuryMarket, Health Magazine, etc. In order to your use of, and access to, certain departments, products and services listed below on Golshafa website that we have listed important legal terms apply to anyone who visits our website or uses our products and services.
If you use or access to Golshafa's website for example purchase products and services through our website, you will be subject to, and must comply with our Terms of Sale section.
These references to "Terms and Conditions" mean our Terms of Sale and etc.
Terms of Sale
The use of HealthShop Department is subject to the Terms and Conditions of use in section a ("Terms of Sale"). The Terms of Sale tells you the terms of sale on which you may make use of HealthShop Department for purchasing products and we supply to you through this Website (whether orders are placed online or by exception paper application). ("Products") is subject to the terms and conditions of sale in Section ("Terms of Sale") for more information view the terms and conditions applicable for the services at https://golshafa.com/healthshop prior to making your payment on this HealthShop website.
Links to Third Party Sites
Golshafa offers a wide range of products and services, features and part of the terms below may not be relevant to the specific products and services you use but any applicable law which cannot be excluded, Golshafa.com makes no representations and warranties in a way that the information on this website is free from errors, omissions or is suitable for your intended use, regarding the quality, accuracy, merchantability or fitness for purpose of third party websites or material, or products and services available through third party websites, that third party websites and material does not infringe the intellectual property rights of any person because we have no control over such sites and resources, you acknowledge and agree that Golshafa.com is not responsible for the availability of such external sites or resources and is not responsible or liable for any Content, advertising, products, services or other materials on or available from such sites or resources and furthermore not authorizing the reproduction of third party material by linking material on this website to third party material, and that any posts, comments, tweets, links or information released by external parties or users other than the official account on Golshafa's social media platforms is not endorsed or approved by Golshafa Pharmaceutical Research Complex, and does not represent the views of Golshafa.com.
Last Revised: January 11, 2018
HappyLife (Elixir)
Joyful life by Elixir
Elixir - A definitive food supplement
Elixir is a combination of natural herbs, essential vitamins and a strong supplement useful for the healthy function and peak performance of men and enhancement of men's sexual strength. Furthermore, these potent ingredients of HappyLife Elixir are beneficial for boosting energy, stamina and so on. Elixir is 100% natural and is very effective in treating infertility and sexual weakness in men that naturally increase the number of sperms, moreover, intimate pleasure increases sex drive in all ages and stages. More Information…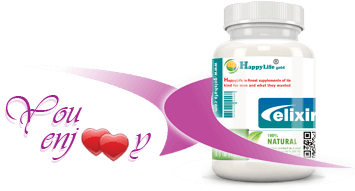 Buy Now
100% herbal and a combination of natural minerals
Treatment of body weakness and extreme fatigue
Prevents from depression and brings freshness
Improves sperm count, quality and mortality
Increases sex drive, stamina and vitality